Marriage is one of the most auspicious and important occasions of a person's life. When it's your wedding, you take care that everything is just perfect. Whether to choose white lilies or red roses to decorate your wedding destination or your great wedding gown, you choose everything very precisely because it is mostly once in a lifetime deal, after all, a wedding.
Among all the selection of clothes, makeup, jewelry, footwear, and accessories, it is very important to know that your hairstyle is also a major part of your overall look on your big day.
Wedding hairstyle ideas for short curly hair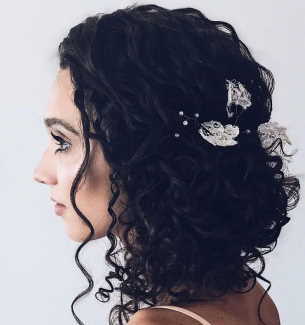 Generally, it is one of the least bothered things by the brides. Of course, long hair suits every outfit, whether it is a long white or the great Indian lehenga; you can make many hairstyles if you have long hair. But what if you just got a haircut to get a trendy look and now it's your wedding? In this case, mostly, you will prefer adding hair extensions to the hair. But what if we tell you that you can make many cute curly hair wedding hairstyles from your short curly hair?
We have brought you a list of wedding hairstyle ideas for short curly hair and curly hair wedding hairstyles that can make you look like a Queen at your wedding.
Side Clasp with Loose Curls
Having short hair can create a problem while making hairstyles and when your hair is curly, lesser options are left with you. But not to worry, you can use a curling iron to make beachy waves in your hair and then part them on one side by using a big accessory for holding the hair together. It will give you a very classy and trendy look.
Curly Updo Bun
This hairstyle goes with almost every outfit. All you have to do is take your hair together and tie them up into a bun. You can take out small strands of hair from both sides to make your look more presentable.
Wavy Bob
Bob cuts that were a major trend in the 1830s have made a great comeback. All you need to do is part your hair from the center and add clips on both sides to put them together.
Floral updo
Separate a little section of your hair at each temple and start twisting them towards the backside of your head. Use bobby pins to secure them on both sides. Then clip a floral hairpiece at the back of your head to complete the hairstyle.
Pixie Short Hairstyle:
All you need to do is bring your short curly hair to one side and then add a large clip to keep them together.
Also, you can try these curly hair wedding hairstyles at your best friend's wedding or any festival occasion. It would add diamonds to your glamorous look.