The use of natural flowers in bridal hair is the most trending hairstyles these days. Whether the bride is in a gown, traditional saree, or beautiful lehenga, flowers can do wonders! Walking down the aisle in a hair updo,  wavy locks, or any other hairdo, making use of flowers can completely transform the look
Some such hairstyles are:
Buns are outlined with flowers!
This is a mesmerizing hairstyle that is beautiful and simple at the same time. If one likes the idea of floral buns but doesn't want a very adorned hairstyle, this style is just where the flowers are beautifully aligned 'outlining the hair bun.
Side aligned flowers
If one is planning on getting engaged or planning on having a  cocktail look, this stylish updo is just the one. It adds a classic touch to the person and can be done using fake or real flowers to effect!
Tiaras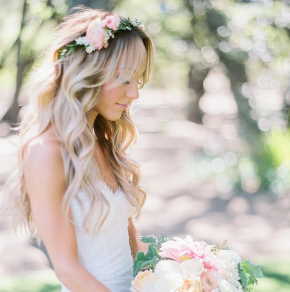 This style can be done using the right flowers and the shades to get the feeling of looking like an angel. The trick to getting it done is to give the style a messy but natural look and then add the floral tiara on top of the hair and then leave the rest of the hair loose in a beautiful manner.
The bride's hairstyle ideas with natural flowers are something that sits anyone who tries it. It gives an elegant look as well as makes the person wearing it as someone look heavenly!
So if one is planning on getting an elegant and classy look at the same time for the wedding, then a floral hairstyle is just the right one. After all, it's every bride's dream to look best, which can be done with flowers!